Poached Duck Egg and Lobster Salad
Our poached duck egg and lobster salad delivers a delectable assortment of flavors and textures. We love the rich flavor of lobster, salty and smoky bacon, crunchy sough dough croutons, and the hint of citrus from the lemon vinaigrette.
This recipe uses our finest HPP raw lobster meat. No need to waste time and meat having to deshell the lobster yourself. You lobster meat arrives deshelled, raw frozen, and free from any additives or preservatives.
Servings: 2
Duck Egg and Lobster Salad Ingredients
HPP Lobster (tails & claws: 2-4 oz each, knuckles, legs – thawed)
2 duck eggs (can substitute large, organic chicken eggs)
1 head frisée
1/2 head radicchio
2 pieces baby gem lettuce
2 slices double-smoked bacon
1 shallot
2 slices sourdough
Extra virgin olive oil
Lemon vinaigrette (see below)
Red wine vinegar
White vinegar
Salt
Sugar
Lemon Vinaigrette Ingredients
1/3 cup fresh lemon juice
1/2 cup olive oil
1/2 tsp Dijon mustard
1 Tbsp water
1/3 tsp salt
Cooking Instructions
For the vinaigrette: in a mixing bowl, combine all ingredients except oil; whisk in oil in a slow steady stream. Reserve.
Steam lobster pieces until reaching an internal temperature of 73° C / 165° F (approximately 3-4 minutes). Reserve and chill. Slice tail in half lengthwise.
Slice the shallot into rings; in a small bowl add a teaspoon of salt, a teaspoon of sugar, and a tablespoon of red wine vinegar. Mix and reserve.
Bring a small saucepan of water to a simmer. Add a tablespoon of salt and a tablespoon of white vinegar. Crack the duck eggs into separate bowls. Add, one at a time, to the simmering water. Poach 2-3 minutes for soft yolk; shock in ice water. Transfer to paper towel.
Slice bacon into lardons (small strips or cubes); sautée over low heat until crispy. Transfer to paper towel to cool; reserve.
Slice sourdough into large dice. Transfer to roasting rack; coat with two tablespoons of extra virgin olive oil. Season with salt; toast in a 350 degree Celsius oven until lightly browned (approximately 10 minutes).
Assembly
Bring a small saucepan full of water to a simmer. Add poached eggs to reheat (only takes about 1-2 minutes). Assemble lettuces in a mixing bowl; dress lightly with vinaigrette and season with salt.
Remove eggs from water and drain on paper towel.
On two large serving plates, scatter the lettuces to form a nest. Carefully nest the eggs in the centre. Top with claw meat; garnish with tail and knuckles. Scatter bacon, pickled shallots, and croutons. Drizzle with extra virgin olive oil and serve.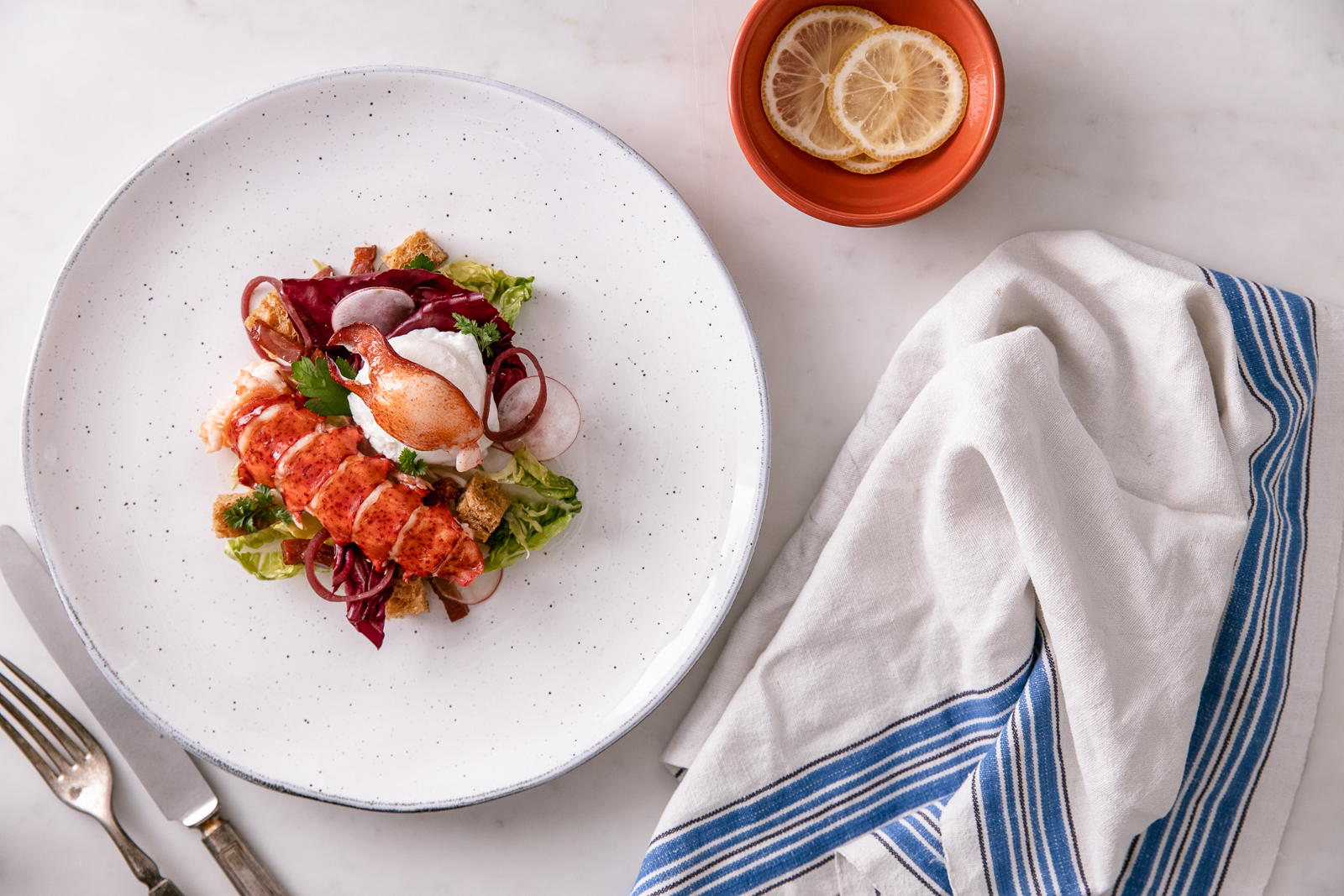 HPP raw frozen lobster is the preferred choice for top chefs globally.
Get yours today.
REQUEST QUOTE