Spaghetti all'Aragosta is a very rich and decadent Venetian dish. It is tossed with garlic, fresh ripe cherry tomatoes, and white wine. It can be served as an entrée or an appetizer. As always, using our HPP lobster meat saves you a lot of time when preparing this dish.
Servings: 2
Spaghetti all'Aragosta Ingredients
HPP Lobster (tails & claws: 2-4 oz each, knuckles, legs – thawed)
1/2 cup white wine
1/2 cooking onion, finely diced
1 clover garlic, crushed
500ml crushed tomato
250ml butter (unsalted)
Bunch cherry tomatoes
1 tablespoon chopped parsley
Basil leaves
Extra virgin olive oil
Fresh Spaghetti alla Chitarra (two portions; 180g)
(can substitute dried spaghetti or bucatini; 100g)
Instructions
In a large sauté pan over medium heat, add two tablespoons of extra virgin olive oil. Add onions and one teaspoon of salt. Sauté until translucent, stirring to prevent browning on bottom of pan (approx. 5 minutes).
Add crushed garlic, and stir (do not brown garlic!) – approx. 30 seconds.
Add white wine; reduce liquid. When almost dry, add crushed tomatoes; reduce heat to low. Simmer for approximately 20 minutes.
Turn off heat; add butter, stir until dissolved, and cover. Check for seasoning (add salt if needed). Set aside.
In a separate sauté pan over high heat, add one tablespoon of extra virgin olive oil. When oil is shimmering, add bunch of cherry tomatoes (being careful, as oil may splatter). Char tomatoes, rolling around occasionally (approx. 4 minutes). Transfer to paper towel to cool; season with salt.
Fill a medium stockpot with water and place over high heat. Add two tablespoons of salt. When at a boil, add pasta (following directions for 'al dente' on package).
When pasta is nearly cooked, bring sauce back up to a simmer over medium heat. Add lobster pieces, beginning with the tail and following with the claws, knuckle, and leg meat.
Add pasta to sauce and stir. Turn off heat; cover for 5 minutes. Ensure lobster pieces reach an internal temperature of 73° C / 165° F (approximately 5 minutes). Add chopped parsley and a teaspoon of extra virgin olive oil.
Transfer to a warmed serving dish, reserving larger pieces of lobster to garnish. Add charred tomatoes & basil leaves.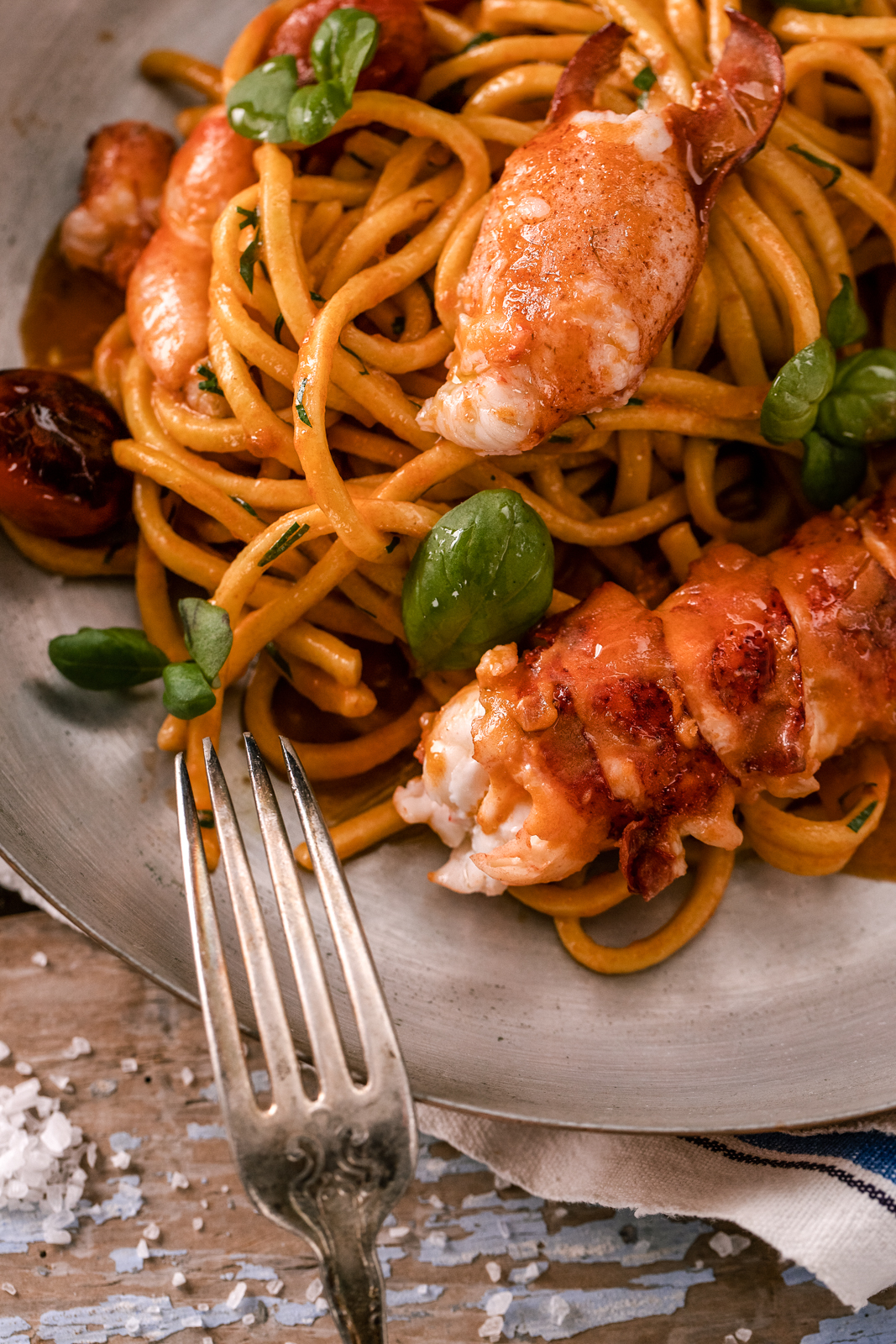 HPP raw frozen lobster is the preferred choice for top chefs globally.
Get yours today.
REQUEST QUOTE